Gift Voucher
---
If you have any questions regarding the purchase or redemption of a gift voucher code then just Contact Me.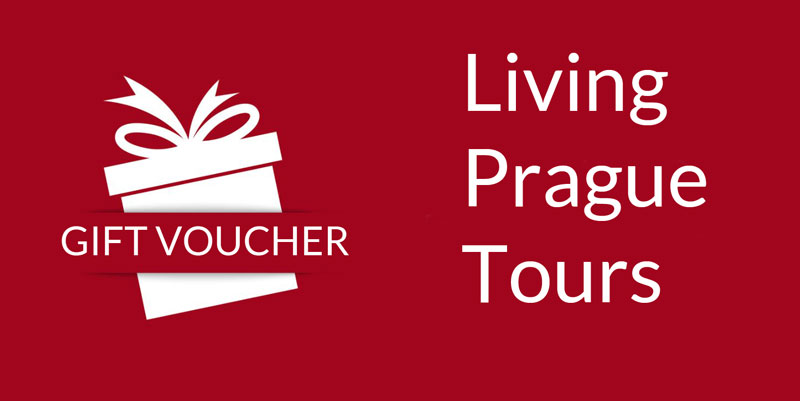 If you've read About Me and you've read the Latest Reviews then you might be thinking that buying one of my walking tours as a gift for somebody is a great idea especially if they are not used to hiring a tour guide because it is going to take their experience of the city to another level. On my site it's very simple to do that so here's an explanation for how to buy and how to redeem a Livingpraguetours gift voucher.
---
OPTION 1: You Want to Buy a Gift Voucher
1) First check the different scheduled tours available i.e. that's anything with a calendar on the page like the Old Town and Jewish Quarter, City Walking Tour, WW2, Prague Architecture and the Christmas Markets tour.
2) When you've decided which one would make a good gift for your friends/relatives then go to the calendar associated with that tour and you'll see there is a tick-box with the text "I want to buy as a gift (no date)".
3) Tick the box, the screen will change to show you ticket prices.
4) Select the appropriate number of tickets and it will display the associated value of the gift voucher.
5) If you're happy then proceed to contact/payment and you'll receive a gift voucher by email with the tour name and voucher code which you can send to whomever you wish.
6) The gift voucher is valid for ONE YEAR from the date of purchase (365 days).
7) The purchase of a gift voucher does not automatically guarantee places on a tour as that is based on availability so clients should book as far in advance as possible.
---
OPTION 2: You Want to Redeem a Gift Voucher
1) Firstly, as the voucher recipient, you should check the detail of the tour to which the gift voucher relates. If you agree with the choice you just need to click on the "Redeem a Gift Voucher" button (under the tour calendar on the tour detail page). Clicking that button takes you to a page where you enter the voucher code and click next. You are now taken to the tour associated with the voucher where you can choose the date and time of your tour just like the regular tour booking process. The tickets are pre-selected according to the voucher so you just need to enter your email address and submit the reservation. You'll receive a confirmation with contact/meeting point details and a reminder 48 hours before the tour. Scheduled tours run Monday to Friday.
2) What about if you would like to use the gift voucher on a different tour which has the same ticket pricing? (the Old Town and Jewish Quarter Tour, WW2 Tour and City Walking Tour are the same price). In that case you should contact me because we have to agree which tour/date/time you would like and to make sure that the required places are available (see point 5 below). As it is already paid for, I will then send you a booking paid confirmation with contact/meeting point details for your chosen tour/date/time and you will receive a reminder 48 hours before the tour.
3) What about if you want to use the gift voucher to discount a more expensive tour like the Prague Architecture Tour or the Christmas Markets Tour or maybe upgrade to a Private Tour? Then it's the same as above in that you need to contact me to arrange the necessary date/time/requirement (private tours can be any day of the week). I will need to know the voucher code to be used so I can calculate the difference in cost and you can decide if you want to pay the difference online by card or in cash on the day of the tour. That determines the confirmation that you will receive i.e. if you want to pay by card there is a request for payment and the confirmation with contact/meeting point details follows after paying. But if you elect to pay cash on the day then the confirmation is sent immediately with the contact/meeting point details. In either case you will receive a reminder 48 hours before the tour in either case.
4) Please note that the gift voucher is transferrable in that you can give or sell to a third party but the voucher may only be used once.
5) Redeeming a voucher where you are moving your credit to another scheduled tour requires me to send you a manual booking confirmation. The scheduled tours are limited to 6 people but if a moved booking means that there will be 7 people on the tour then your places are guaranteed although the confirmation will show one less place (because the system will see a limit of 6). Don't worry, you're all good and this will be agreed by email.
6) These are small group tours that should be booked well in advance. If there are not enough spaces on your chosen tour then I will endeavour to include you even if it means I go to 7 people in the group. I may be able to create another tour or I offer the possibility to move to another tour or you have the option to upgrade to a private tour if you pay the difference but all of these options are subject to availability. You should contact me for options.
7) There is no refund once a gift voucher has been purchased. It's exactly the same rules as a shop-bought gift voucher i.e. use it or lose it. But as I mentioned earlier you have a whole year to find a way to use it.
---